Pontoon Type Internal Floating Roof

Storagetech is a major supplier of pontoon type internal floating roofs, which fully comply with API 650 standards. Pontoon type floating roofs are the most economical type of floating roofs in the market. EStoragetech's internal floating roofs, which minimize the evaporation losses of stored products, such as jet fuels, gasoline, diesel, and crude oil, can be supplied as aluminum or stainless steel. Besides, Storagetech's floating roof's economic benefits, they also protect the environment by not releasing toxic gasses into the atmosphere. Storagetech comes with in-house manufactured floating roof seals.
Briefly, the 2000m hair profile provides a float in the float by placing a float below the sheet to cover the surface of the product inside the tank.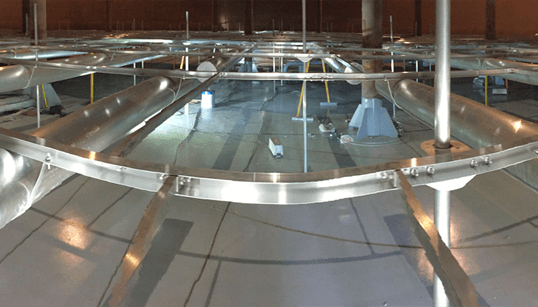 Advantages
Economic and less material needed, it is easy to use and it is very easy to install with the materials provided.
Since it is a Pontoon, the risk is less when testing and manufacturing are done properly.
The most prolonged IFR type when regular maintenance is done
Floating Roofs & Seals Models