Storagetech MegaFloat Block Panel Type Internal Floating Roof (IFR) is manufactured to be installed inside fixed roof storage tanks, it's a Full Contact Floating Roof with absolutely no gap, thereby reducing emission and restricting vapor build-up. The differentiating factor between MegaFloat and the other Internal Floating Roof is the space, often there is vapor space between the roof and the product which allows dangerous fumes to collect. MegaFloat is designed to be much more reliable than other available Internal Floating Roofs.
Megafloat IFR developed by Storagetech's engineering team is designed to reduce evaporation to 0 in the tank and maximize tank safety to the maximum level, unlike other IFR types. It is made of aluminum or stainless which will not react with any kind of chemicals. This IFR, which functions as a buoy in the form of a box and air inside it, is manufactured as the most robust type in the field of fire due to its frenzy and testing at every stage. As it is in full contact with the product inside the tank, it can easily move with the help of the seals on the side at the lowest and highest levels of the product.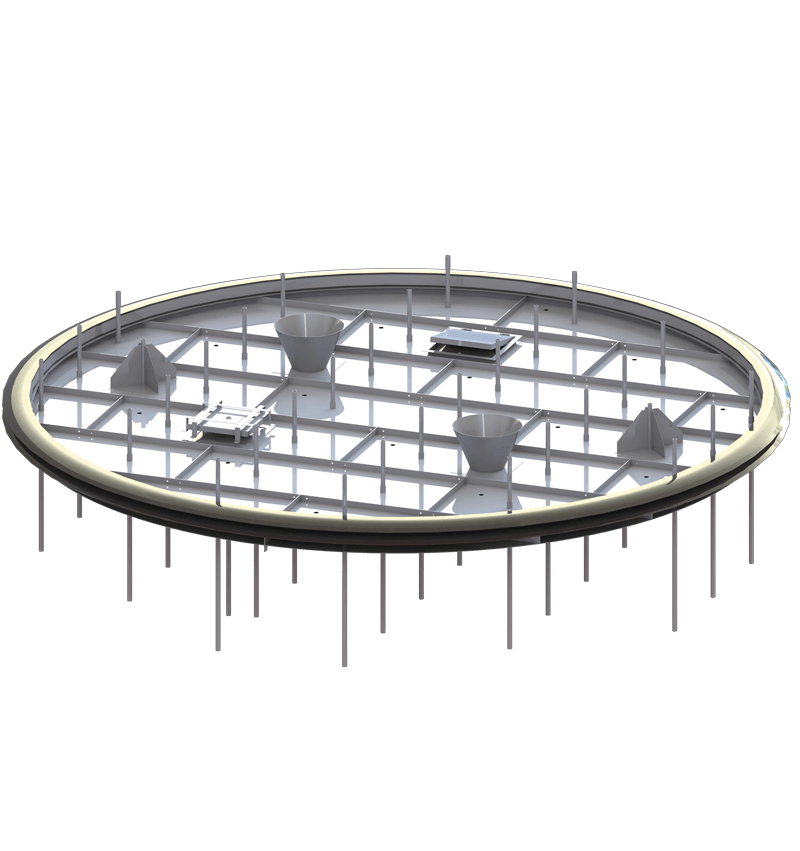 Advantages
No any gap between storage product and floating roof, extra safety, durability – no auxiliary material required, no leakage – all leakage testing
The space between the tank and the product may create pressurized gas. The risky situation, in this case, There is no such risky situation in the tank which used Megafloat.
When done by a non-qualified manufacturer, the profiles used in the fence can cause the fuel to leak due to chemical substances in the sealing area between the tank and the product, which could explode the polariton material and plate when there is wear. Megafloat removes this risk with innovative no leakage design.
Floating Roofs & Seals Models