Full Contact Internal Floating Roof

Model No:
Storagetech™ is a major supplier of full contact type internal floating roofs, which fully comply with API 650 standards. Full contact floating roofs are the most effective type of floating roofs in the market. Storagetech™ internal floating roofs, which minimize the evaporation losses of stored products, such as jet fuels, gasoline, diesel, and crude oil, can be supplied as aluminum or stainless steel. Beside, Storagetech™ floating roof's economic benefits, they also protect the environment by not releasing toxic gasses to the atmosphere. Storagetech™ comes with in-house manufactured floating roof seals.
In order to minimize the gap between the full contact panel type floating ceiling tank and the product, a foam support is provided between the polarized material and the panel. Extra closure is applied to completely close the gaps on the pan. The panel is designed not to sink completely.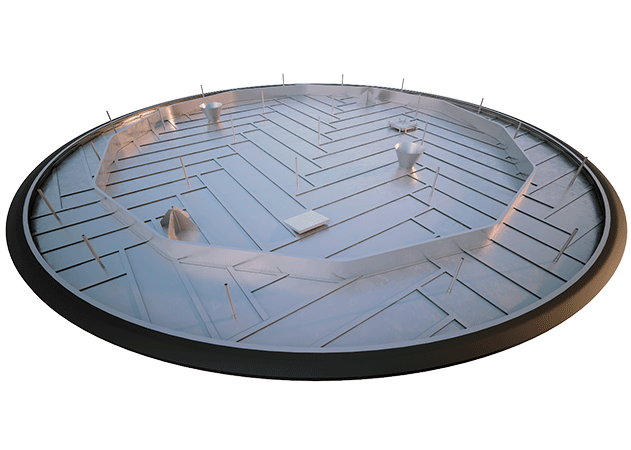 Advantages
Full Contact reduces the gap between the tank and the product further and reduces the evaporation to a value close to 0.
The material is slightly more expensive than the Pontoon type because it is polarized in the material, but it is still considered as a reasonable price because it is in the Full Contact category.
In order to prevent this risk, Storagetech recommends Internal Floating Roof Mechanical Seals to its customers as a solution. If the customer does not agree, we offer our engineering team's new design, the Megafloat Box Type IFR, to meet all the savings and safety requirements of the floating tank.
Floating Roofs & Seals Models