Piping design, engineering, and fabrication are essential parts of any project. Site fabrication, quality control, and material handling are not easy tasks and cause unexpected delays. To avoid these delays, ERGIL came up with a perfect solution. ERGIL provides complete design, engineering, material supply, quality control, project management, and fabrication of carbon steel, stainless steel, chrome-moly, high alloy, nickel base alloy, low temperature, and duplex grade piping spool with internal cladding or without internal cladding and modular piping racks. ERGIL's fabrication facility provides fully automated blasting, internal and external painting, and welding. ERGIL's pre-engineered piping and pipe rack system enables one to complete a project on time without any quality failures.
All the components of pipe spools; such as elbows, flanges, tees, etc are purchased from approved qualified vendors. The quality Control (QC) department controls every step of fabrication as per the approved Inspection Test Plan (ITP) and sometimes third-party inspection provides additional services. After the final inspection when the material reaches the facility, QC departments check the material and certificates for acceptance. The manufacturing process continues as per approved ITP and customers' special requests. After manufacturing, parts are carefully marked and packed for easy transportation and installation. ERGIL also provides qualified, experienced supervisors for installation when required.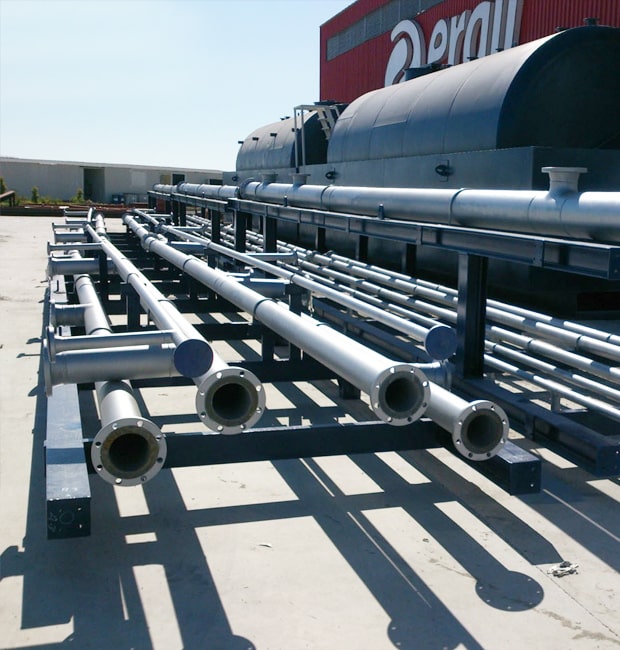 Pipe Rack Types
Special blasting, painting, coating, and galvanized systems.
Various pipe loads are available.
One, two, three, or even more tiers are available.
Support for foundation design is provided upon request.
Comes with many fittings (nozzles, elbows, flanges, tees, etc)
Comes with required anchor bolts upon request.
Comes with cable channels, kilts, and extra supports, upon request.
Comes with lighting systems, panels, or junction boxes upon request
Benefits of Pre-fabricated/Pre-engineered Piping Racks
Fast delivery time.
Field welding is not required. Thanks to the flange connection, all one needs is nuts and bolts.
Easy to install and saves time (All parts are marked and shown in detailed drawings and has lifting lugs or special arrangements).
Minimizes on-site quality failure and unexpected delays. One does not need an additional hydrostatic test on-site.
Comes in any shape and design (ERGIL does not follow certain designs for pipe racks, but is capable of fabrication as per client request).
Easy to maintain (provides easy access for maintenance).
Enables future modifications. There will not be a need to buy new.