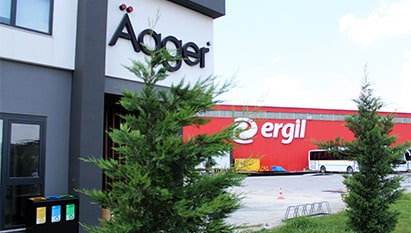 July 15, 2013 – Dubai, UAE – Äager, a worldwide leader in engineering, construction and manufacturing for oil, gas, water, chemical and petrochemical industries is pleased to announce that KazStroyService has selected Äager Pig Handling System for their project to increase the capacity of Kazakhstan-China Gas Pipeline. Pig handling system is used for supporting pipeline cleaning, inspection or testing operations by helping easy handling pipeline pigs. Kazakhstan-China Pipeline project is a part of the Central Asia-China Gas Pipeline, the very first pipeline to bring Central Asian natural gas to China.
With strong project management abilities, KazStroyService provides complete, integrated services including engineering, procurement, industrial construction, commissioning, offshore, and operation and maintenance. Expanding in India, Turkmenistan, and the Middle East, KazStroyService Group has a strong presence in the Republic of Kazakhstan, with a workforce of more than 25,000 people.
The Central Asia–China gas pipeline is a natural gas pipeline with total length of 1,833kms and expected cost of $7.3 billion. Construction works of the Kazakh section started on 9 July 2008 and the first stage was finished in July 2009. It was built by Asian Gas Pipeline Company. The main contractors of this section were KazStroyService and China Petroleum Engineering and Construction Corporation. Currently capacity of Kazakhstan-China Pipeline is at 14 million tons per year and is expected to reach nominal capacity of 20 million tons per year in 2014.
Oktay Altunergil, CEO of Äager, commented: "It is exciting for Äager to become a part of such an enormous pipeline project, which runs through Turkmenistan, Kazakhstan, Uzbekistan, Kyrgyzstan, Tajikistan, and Afghanistan to China. Äager has more than 30 years of experience offering state-of-the art customized equipment, which meet customer and industry standards. We value our partnership with KasStroyService and looking forward to continuing to help Central Asia's energy needs."
About KazStoryService Group
KazStroyService Group has differentiated itself as a technology-driven engineering, procurement and construction (EPC) company with a substantial presence in Kazakhstan, India, Turkmenistan, and in the high potential markets of the Middle East. When it comes to constructing pipelines for transporting oil and gas or compressor stations, executing turnkey refineries and industrial plants, KazStroyService Group expertise compares with the best in the world. Encouraged by our success in these areas, we are actively exploring investment opportunities in projects related to roads, power plants, ports, and more. Living with a global mindset, we look further to assuming the strategic role of a developer.
For further information please visit: www.kazstroyservice.com
About Kazakhstan-China Pipeline Project
To learn more please visit: http://kazstroyservice.com/page.php?page_id=121&lang=2&article_id=73