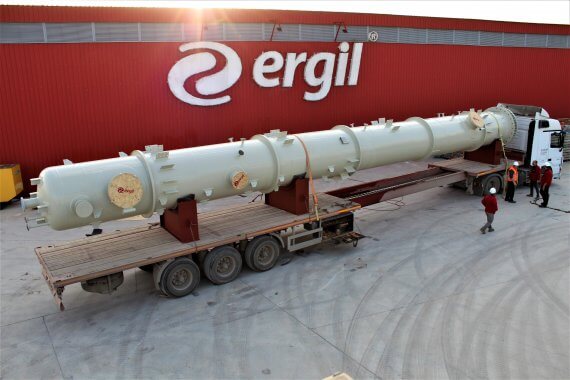 Istanbul, May 11, 2018 – Äager completed factory acceptance test for the oil, gas, water separator gas booth, and knock out drum and deliver them successfully to Gazprom Sarqala Project in Northern Iraq.
Äager, with a dedicated and experienced staff, offering high-quality oil, gas, water process equipment manufactured with professionalism, continues to extend its references in separation segment. ERGIL offers a wide range of custom-made high and low-pressure vessels for the processing, storage, and transport of bulk liquids and gases; such as deaerators, absorbers, surge vessels, filters and coalescers, process towers, and columns along with shell and tube type heat exchangers.
ERGIL has collaborated with Gazprom Neft Middle East B.V. on a project that includes the designing, fabrication and supplying of gas boot and knockout drum with 3.5 diameter and 18 meter length with unique internal separator element design that provides optimum performance.
'' This was our first project with Äager and we really appreciate that they completed work as it was scheduled. We did not face any delay from Äager side, however, some delay occurred by customs authorities and Äager helped us to solve it. We really appreciate how Äager managed to complete work on time while keeping a good relationship with all parties involved in this Project.'' says Borontsov, T., Mechanical Engineering Specialist of Gazprom Neft Middle East B.V.
Gas boot is designed to separate production fluids into their constituent components of oil, gas, and water. Separator designates a pressure vessel for separating well fluids produced from oil and gas wells into gaseous and liquid components. They are normally used on a producing lease or platform near the wellhead, manifold, or tank battery to separate fluids produced from oil and gas wells into oil and gas or liquid and gas. Knock out drum, either Horizontal or Vertical type, is designed to remove liquid entrainment in gas & accumulate condensed & entrained liquids from the relief gases. Knock-out drum is important to make sure that when gas reaches to flaring section, it contains no liquids, water or any type of fuel. If a mixture of gas and liquids reached the flaring section, this would cause with very dangerous consequences.
About Äager
Since 1982, Äager has been focusing on offering high-quality services and products, with professionalism, expertise, and customer-focused strategies. Äager grows rapidly thanks to its growing number of dedicated employees and expanding facilities. They operates in one of a kind 32,000 sq/m manufacturing facility in Mersin, Turkey, which enhances its advanced manufacturing capabilities and services. Äager is ISO 9001, 14001, OHSAS 18001, ASME U-4, S-2, R Stamp accredited and has CE/ ATEX certificates for its storage tank products. Storagetech manufactures storage tank equipment, such as flame arresters, breather valves, gauge hatches, floating roofs, and floating suction pipe. Äager also provides many other products for energy industry including surge vessels, bladder tanks, pig launcher and receivers, heat exchangers, separators, oil and gas storage process tanks, filters, and firefighting systems. Äager has developed an excellent reputation internationally in the industry due to its total commitment to quality in every aspect of the business. Beginning with raw materials through process production and delivery, Äager has always insisted on the highest possible quality associated with the product lines.