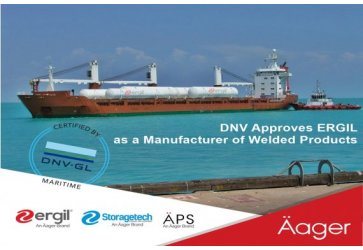 DNV (Det Norske Veritas) GL is a global quality assurance and risk management company, operating in more than 100 countries, that provides classification, technical assurance, software and independent expert advisory services to the maritime, oil & gas, power and renewables industries. The company also provides certification, supply chain and data management services to customers across a wide range of industries.
DNV type compatibility has been implemented as of 1 January 1999 within the scope of European Directive 96/98 EC for Marine equipment. Henceforth, devices to be used in the maritime sector must be certified under this directive.
Äager GmbH Brand ERGIL is proud to announce that it got approved for welding in accordance with DNV-GL class programme DNVGL-CP-0352 – Approval of Manufacturers – Manufacture of welded products – welding workshop.
Our Quality Control Engineer Aykut Pektas explains how Ergil achieved DNV certification: "According to DNV-GL standards, welding operations and the welding workshop environment should hold a certain standard. As we were already producing in accordance with the very high ASME standards and are employing highly qualified engineers and technicians who hold special welding certifications, we were confident we would successfully pass the DNV-GL inspection process. We had setup a special area for periodical maintenance of the welding machines and the stocking of the electrodes used in welding under appropriate conditions (air temperature, humidity environment, storage time). The conditions in this area are controlled 24/7."
Our Project Coordinator Yusuf Veysel Selimoğlu emphasizes the necessity of DNV certification: "According to the International Marine Organization (IMO), vessels in international travelling are subject to inspection. One of the certificates approved by IMO is DNV-GL certificate. For example, in the production of storage tanks to be installed on the ship, the manufacturer must have the certification of accredited organizations such as DNV-GL. Otherwise, the vessel in question cannot leave the shipyard or port in any way. As ERGIL, we are ready to be the solution partner of our customers whenever DNV-GL certification is required."
Äager GmbH holds more than 40 years of experience and knowledge in manufacturing equipment and accessories of storage tank terminals, refineries, pipelines, process and industrial plants. This vast experience enables us to realize complex projects and deliver great quality of service. We are happy that through our brand Ergil we are now also able to be of service to our customers in need of  DNV-GL certified wielded products.