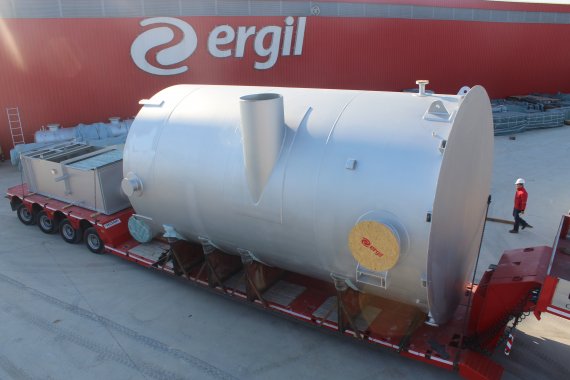 Äager Announces Successful Completion of Silencers & Weir Boxes Order for Zorlu Energy Group's Kızıldere III – Geothermal Power Generation Project
Istanbul, 24.01.2017 – Äagerannounced today the successful completion of 13 brine flash tank silencers and 13 weir boxes order for Zorlu Energy Group's Kızıldere III Geothermal Power Generation Project located between Denizli and Aydın Provinces in the northeastern extreme of the Büyük Menderes Graben of Western Turkey.  Kızıldere is Turkey's largest geothermal power plant that adds significant value to Turkey's alternative energy needs.
The Kızıldere III project has increased its production to 165 MW and has become one of the 10 largest geothermal power generations in the world. The collaboration of Äager and Zorlu Energy Group means that approximately 800,000 dwellings can have their electricity needs met. Zorlu Energy Group works in a different part of the energy sector, offering an integrated service on a global scale in various fields especially through the production and sales of electricity and vapor. Thus, Turkey would able to reduce its dependency on foreign-source energy by using national resources more efficiently.
Äager will be supplying 13 brine flash tank silencers (dia. 3800mm) and 13 Weir Boxes (4230x1800x1220mm) to Zorlu Energy Group. These Silencer and Weir Boxes have been designed and manufactured at Äager's 35,000 sq/m World class facility in Mersin, Turkey. Brine flash tank silencers are used to minimize extreme loud level that is created during the process of flashing geothermal brine at atmospheric pressure and separates vapor and brine ( thermal water). Weir boxes are used when Tanks are filled with geothermal water and the silencer quietens the process as the steam and steam fluids which come out of the double sludge system are removed and the geothermal water is then transferred to the liquid weir boxes, where level and flow measurements are carried out. Brine flash tank silencers and weir boxes are designed as per ASME Sec. VII Div. 1. & AWWA D100 and painted considering the extreme hot vapor and water conditions.
"We are pleased to announce our collaboration with Zorlu Energy Group as suppliers for one of the biggest Alternative Energy Projects in the world  – Kızıldere III Geothermal Power Plants Project (Buharkent). In Äager, we know the importance of alternative energy for the World and particularly for Turkey, which has become one of the fastest-growing energy markets in the world, paralleling its economic growth over the last ten years. We have been focusing on alternative energy field last couple of years more and more. Äager had been traditionally active with more conventional energy technologies; such as oil & gas, however, because of the rapidly increasing world population, cheap and clean energy have become more important for environmental and economic reasons. We, as Äager, proud to be part of that trend and contribute alternative energy technologies for the current and future generations", says Rahmi Oktay Altunergil, C.E.O. of Äager.