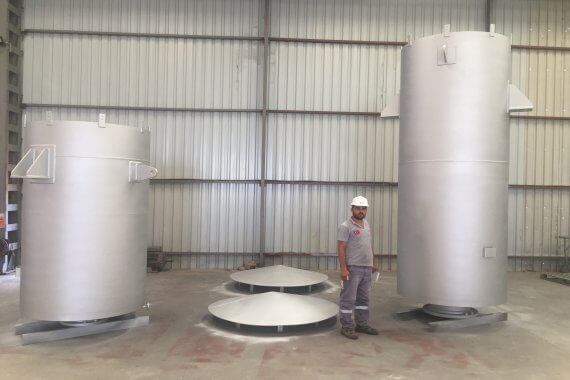 06.08.2017 – Mersin, Türkiye –  Since the partnership had started based upon common values, apparently, Äager and Téchnicas Reunidas will continue to succeed in vital projects.
In recent time, Téchnicas Reunidas, which is a Spanish-based international general contractor engaged in the engineering and construction of industrial facilities in the fields of Oil & Gas, Refining & Petrochemical, Power Generation, and Infrastructures and industries will be supplying more than 20 silencers with acoustic enclosures from Äager in different sizes for their Gas Train 5 Project of Kuwait National Petroleum Company at the Mina Al Ahmadi (MAA)  Refinery where the Kuwait National Petroleum Company (KNPC) took over the refinery in 1980 and as part of its target to develop capacities for refining of crude oil and liquefaction of associated gasses, it continued with several expansions.
Äager's vent silencers are highly used for steam vents, pressure vents, safety relief valve outlets, system blow downs, purge and flare outlets, , hydrocarbon vapors and other gasses which exhaust directly into the atmosphere. The generated noise is a function of upstream pressure and temperature, type of gas, the valve size, and type, plus the effect of down stream piping. Äager vent silencers are used to minimize extreme unwanted loud level that is occured during the process of gas or steam flow in the end-of-pipeline discharging directly into the atmosphere. Äager silencers are available with alternative design choices to provide effectiveness and high performance for your industrial plants or applications. ERGIL dedicated R&D team highly recommends an advanced technology with single or multiple inlets, multi-stage diffusers as back pressure 0.2bar/3 psi for your industrial plants or applications. Äager Diffuser with or without insulation, having noise reduction: up to 50dB. Äager Engineering team designs each silencer due to ASME (American Society of Mechanical Engineers) practices at its lowest total cost with high quality materials – carbon, stainless steel, and higher alloy makeup to provide you a longer and smoother service in high temperatures and corrosive environments.
In recent months, Äager has supplied units to Zorlu Energy Group for the Geothermal Power Plant and many companies successfully. Äager's innovative and environment friendly  silencers, meeting the requirements of customers who have environment conscious, have been designed and manufactured at Äager's 35,000 sq/m unique facility in Mersin city, having its most strategic location, close to all main transportation network in Turkey, where our customers are warmly welcomed to visit and monitor.