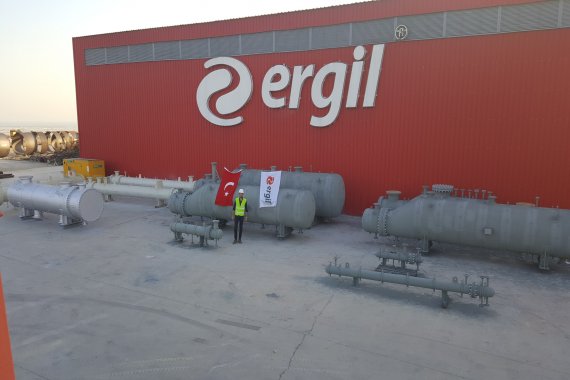 29th June 2016 – Äager is a worldwide leader in engineering, construction, and manufacturing for oil, gas, water, chemical and petrochemical industries. We at Äager dedicate our focus and staff to offering high quality pressure vessels manufactured with professionalism, expertise and customer oriented strategies. Our customers are our pride and products are our success.
We collaborated with JSC OGCC KAZSTROYSERVICE (KSS) a renowned contracting company in Kazakhstan for one of the biggest project – Atyrau Refinery Deep Oil Refining Complex Project (DORC). KSS and Äager has collectively worked on several projects one of them being this. The third biggest refinery in Kazakhstan and with a capacity of 16,600 m³/day, we have been assigned to supply 11 heat exchangers to this region.
Kazakhstan has been an oil producing nation since 1911, the country has the second largest oil reserves amongst former Soviet Republic and therefore has ambitious expansion plans for the new refinery capacity based on a strong forecasted growth rate for petroleum. Some of the projects are already underway and others are in the discussion phase. Kazakhstan owns large reserves of energy resources, and therefore the energy policy of Kazakhstan has influenced world's overall energy supply.
We will be supplying Shell and Tube Heat Exchanger to KSS. These Shell and Tube type have been designed and manufactured at Äager's 35,000 sq. /m world class facility Mersin, Turkey. Diethanolamine (DEA) Regenerator Reboiler, Methyldiethanolamine (MDEA) Regenerator Reboiler, Reboiler Sour Water Stripping (SWS), Hydrogenation Cooler, Stripped Water Trim Cooler are the Heat Exchanger types that would be supplied. We designed the heat exchangers in accordance with TEMA and the design code followed was ASME Section VIII Div 1.The minimum design pressure was 4.6/FV Kg/cm2 and maximum was 15.4/ FV Kg/cm2 for shell type heat exchanger and for tube type heat exchanger minimum was 4.2 kg/cm2 and maximum was 20/ FV kg/cm2. These are some of the designing standards adopted to design the heat exchangers for KSS.
Husain Ali, Sales Engineer – Äager says "Kazakhstan is well endowed with oil reserves and this makes it a key region for Äager. Realizing the potential this market has, we are on a mission to further increase the number of projects we are engaged in this region".
Mohammed Hasan, Project Coordinator – Äager says "A challenging project for the production team, KSS always brings interesting projects for ERGIL and therefore is instrumental in promoting the Äager brand name in the CIS region"