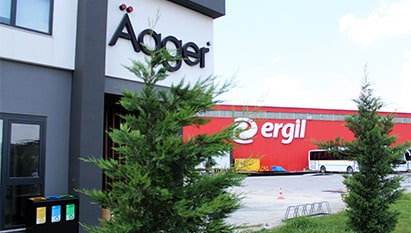 May 31, 2015 – Äager, a global expert in engineering, construction and manufacturing for storage tanks and equipment conducted a comprehensive engineering, design, material supply and fabrication project. It has been awarded by ROSCO (Rafidain Oil Services Co.-Jurmat Group Of Companies) which is the EPC contractor for the NEW FLOW TANKS EPC PROJECT the engineering, design, material supply and fabrication of 33m dia & 14.63m height, 36.20m dia, 12.20m height, 41m dia, 8.8m height dome roof flow tanks and 3 ASME U stamped flow tank degasser units to Zubair Degassing Station, Hamar Degassing Station and Rafidiya Degassing Station.
Touted as the largest oil field in Iraq – Zubair is undergoing major development as a result of which, the oil produce is expected to reach unprecedented levels. The project whose license has been given to Eni-led consortium includes refurbishment of the existing plants, as part of which Äager was to design, manufacture and fabricate dome roof flow tanks and flow tank degasser units.
Riza Altunergil, Vice President of Commerce, Äager commented: "Having already established itself in the Iraq region, this project is a feather in the cap of Äager as it is able to utilize the experience it has in this region. Furthermore, it has been successful in turning this opportunity into a business achievement for the organization as well as for its partner – ROSCO a Jordanian company specializing in the Oil and Gas sector and which has been awarded EPC contract work for Installation of New Flow Tanks.
Äager's experience in Iraq has been instrumental in the triumphant execution of this project. Its fully automated steel fabrication system and ability to design and fabricate complicated ASME U stamped process equipment ensure highest quality and quick delivery. It's 30 years of experience, knowledge in manufacturing tanks, equipment and accessories of storage tank terminals, refineries, pipelines, process and industrial plants and strategic location of its 32,000 square meter manufacturing facility enabled it to complete this complex project and deliver it with great quality of service.