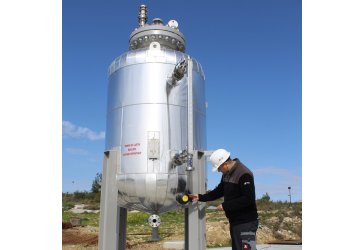 Istanbul, April 21, 2020 – ERGIL completed factory acceptance test for the surge vessel and deliver them successfully to Socar Petkim Star Refinery in Turkey.
ERGIL, with a dedicated and experienced staff, offering high-quality oil, gas, water process equipment manufactured with professionalism, continues to extend its references in surge vessel (water hammer) segment. ERGIL offers a wide range of custom made high and low-pressure vessels for the water, marine, processing of bulk liquids and gases; such as deaerators, absorbers, scrubbers, surge vessels, silencers, filters,  process towers and columns along with shell and tube type heat exchangers.
ERGIL has collaborated with SOCAR Turkey Enerji A.S. (SOCAR Turkey), a subsidiary of SOCAR (State Oil Company of Azerbaijan Republic) on a project that includes the designing, fabrication and supplying of stainless steel  16.5 bar surge vessel system with 3 cubic meter capacity with unique design that provides optimum performance thanks to its buthyl bladder.  Surge vessel is used for balancing the water pressure in the refinery. It is designed as per ASME Sec. VIII Div.1 and certified according to both PED (2014/68/EU)and ATEX. System vessel is installed with heat tracing and insulated with aluminum cladding in order to avoid freezing or temperature fluctuation.
'' We work closely with Tekfen for the primary design, and completed the detailed design in 10 days for the urgency of the project. Equipment itself is crucial for such application in order to avoid any water system failure. We have witnessed major time and economical losses in similar plants that  did not implement surge systems. We are proud to supply such a complicated equipment to prestigious client Socar's Petkim Star Refinery", says Project Coordinator Kıvanç Çağlar.
A surge vessel or water hammer is a standpipe or storage reservoir at the downstream end of a closed aqueduct or feeder or a dam or barrage pipe to absorb sudden rises of pressure, as well as to quickly provide extra water during brief drop in pressure. Surge vessels (surge tanks) are important assets in the water treatment process, though incorrect maintenance and management can lead to issues in pipelines costs and the water industry millions every year, causing burst pipes, structural damage, negative pressures and colossal water wastage. Negative pressure directly contravenes Drinking Water Inspectorate (DWI) legislation due to the risk of contamination.
About Äager
Starting its journey in Munich, Germany, Äager was founded to be a core supporter of our customers, whoever requires high quality, affordable, fastest industrial products. Äager promised to accomplish that maintaining the highest safety and sustainability standards under its brands of ERGIL and Storagetech™. Traditionally, oil & gas were Äager's core business, however, with the time the product need for various sectors has emerged. Then, we found ourselves actively working on alternative energy, power, water & waste-water, marine, and manufacturing sectors. What we do is offering safety, environment, process products and special components for manufacturing.  Future requires products that are manufactured efficiently, with no environmental impact, safe, and affordable. We are here to support you with your project needs, wherever it is needed.